Course schedule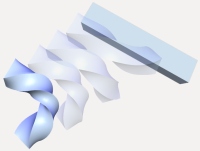 Mondays 7:10 - 9:00pm, Broadway 715/719, room 1221.
The schedule is tentative and may be adjusted along the way. Please check this page often.
09/13/10

Introduction, administrativa, initial high-level description of the proposed projects.
09/20/10

More details about the projects, Q&A. Participants provide a list of project preferences by 09/27.
09/27/10

Office hours; must send project preferences; participants are assigned to projects by 09/28.

10/04/10

Everyone presents their initial project plan (up to 20 minutes presentation).

10/11/10

Columbus Day. No class (work on projects, discuss by e-mail).

10/18/10

No regular meeting (work on projects, discuss by e-mail).

10/25/10

Progress discussion.

11/01/10

No regular meeting (work on projects, discuss by e-mail).

11/08/10

Progress discussion.

11/15/10

No regular meeting (work on projects, discuss by e-mail).

11/22/10

Progress discussion.

11/29/10

No regular meeting (work on projects, discuss by e-mail).

12/06/10

Progress discussion / final project presentations

12/13/10

Final project presentations, post-mortem, party :-)