Course schedule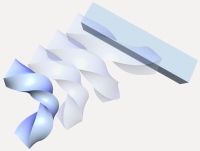 Wednesdays 5:00 - 6:50pm, Broadway 715/719, room 1221.
The schedule is tentative and may be adjusted along the way.
01/20/10

Introduction, administrativa; shape representations in computer graphics - overview.
01/27/10

Shape representations in computer graphics (continued). 2D Curves - parametric, implicit; Bezier curves.
02/03/10

Piecewise curves, B-Splines, rational curves; tensor product surfaces, NURBS.
02/10/10

Class canceled due to snow storm.

02/17/10

Note the room change: this time we will meet in the small conference room, 1203, on the other side of the lab. Geometry acquisition, meshes.
02/24/10

Linear algebra tools review: least squares, PCA. Surface reconstruction, implicit MLS functions, marching cubes.
03/03/10

Discrete Differential Geometry (DDG) - curves
03/10/10

DDG - surfaces
03/17/10

Spring break

03/24/10

Intro to Digital Geometry Processing (DGP); shape deformation
03/31/10

Differential methods for shape editing
04/07/10

Sketch-based modeling interfaces - guest lecture by Andrew Nealen
04/14/10

Space deformation techniques: classic FFD, radial basis functions, cage-based approaches and more.
04/21/10

SVD and RMSD rotations; as-rigid-as-possible surface modeling
04/28/09

Summary, demos, end-of-term party :-)