Course schedule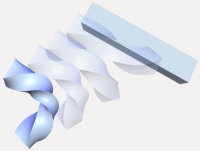 Thursdays 5:00 - 6:50pm, Broadway 715/719, room 1221.
The schedule is tentative and may be adjusted along the way.
01/22/09

Introduction, administrativa
01/29/09

Shape representations in computer graphics: parametric surfaces, subdivision surfaces, implicits, point-based surfaces, polygonal meshes. Related data structures: spatial partitioning, mesh data structures.
02/05/09

Shape acquisition and reconstruction. More on implicit representations, MLS, marching cubes.
02/12/09

Linear algebra tools for geometric modeling: linear least squares, spectral decompositions, PCA.
02/19/09

no class (BIRS workshop)

02/26/09

More on linear algebra tools: SVD (rigid alignments), spectral analysis and PCA (example in animation sequence compression, morphable models). Differential geometry primer: continuous and discrete curves (tangents, normals, curvature, Gauss map, winding number theorem).
03/05/09

Differential geometry: continuous and discrete surfaces. Curvature, Gauss-Bonnet, Laplace-Beltrami operator. Digital geometry processing: simplification, parameterization, smoothing, remeshing, compression.
03/12/09

DGP continued and Mesh deformation intro.
03/19/09

Spring break

03/26/09

Surface editing techniques using differential coordinates.
04/02/09

Sketch-based interfaces for shape creation and editing. Teddy,

FiberMesh

,

SilSketch

.
Tentative project description due
04/09/09

Optimization methods used for shape processing and manipulation. Least squares, direct solvers, iterative methods.
04/16/09

Space deformation techniques: classic FFD, radial basis functions, cage-based approaches and more.
04/23/09

Skeletal deformation
04/30/09

Presentation of final projects. Each presenting student will demo his/her software and show some slides explaining the algorithm implemented, the goal of the project, etc. Total time for each slot: 10 minutes.
Project report due by 5pm, May 7th.