publication

authors

abstract
We present a method for consistent automatic transfer of edits applied to one image to many other images of the same object or scene. By introducing novel, content-adaptive weight functions we enhance the non-rigid alignment framework of Lucas-Kanade to robustly handle changes of view point, illumination and non-rigid deformations of the subjects. Our weight functions are content-aware and possess high-order smoothness, enabling to define high-quality image warping with a low number of parameters using spatially-varying weighted combinations of affine deformations. Optimizing the warp parameters leads to subpixel-accurate alignment while maintaining computation efficiency. Our method allows users to perform precise, localized edits such as simultaneous painting on multiple images in real-time, relieving them from tedious and repetitive manual reapplication to each individual image.
downloads
accompanying video
earlier technical report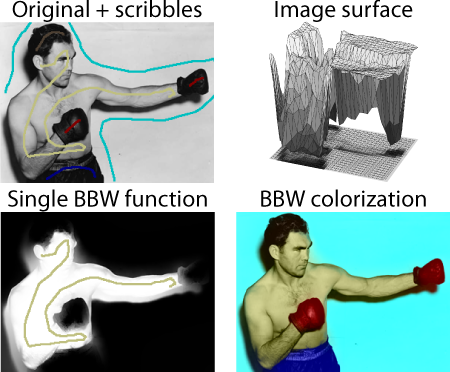 acknowledgements
We are grateful to Yael Pritch and Ilya Baran for internal reviews; Alessia Marra for providing professional edits; Maurizio Nitti, Leila Gangji, Dylan Zehr, Katie Anderson, and Alex Schiebel for modeling; Mykl Roventine, Jonathunder, ZeroOne, <<<TheOne>>>, Erik Hagreis, roblisameehan, *christopher*, and Jason Jenkins for their Creative Commons images; and Sam Hasinoff, Yoav HaCohen and Henning Zimmer for helping with comparisons.